Many teachers have turned to YouTube to offer instructional lessons and videos to support student learning. It is a great resource for content from others, and it is a great place to put instructional videos that you have created and want students to have easy access to view.
Approving Videos for Student Viewing
Restricted Access
About a year ago, YouTube offered new tools to allow districts to permit instructionally focused videos to be viewed by students while blocking some of the inappropriate or offensive content users post to the site. In YouTube language, this is called Restricted Access.
Restricted Access allows our district to restrict access to inappropriate content (as deemed by YouTube) to the Google accounts we provide to our students.
Student and Staff Google Domains
Pay attention to this section! This is the source of much confusion surrounding YouTube video approval.
By now you have noticed that our students have a different email address than our staff does (@stu.waukesha.k12.wi.us vs. @waukesha.k12.wi.us). This was done to give students and staff different privileges with Google accounts.
When it comes to YouTube videos, this means that students and staff will be able to see different videos. A video that is approved for the teacher domain (@waukesha.k12.wi.us) is not automatically approved for student viewing (@stu.waukesha.k12.wi.us). The only way to know for sure is to have a student domain account, or have a student log in and try to view the video on their device.
If a student is using a personal Gmail account at school, they will NOT be able to view approved videos in district. They must use their school assigned Google account within the student domain (@stu.waukesha.k12.wi.us)
Restricted and Approved Videos
We don't always know why videos are labeled "Restricted" by YouTube. This is a closely guarded secret at YouTube, and for obvious reason. However, YouTube allows us to override their filters and "Approve" videos and channels that we feel have instructional value to our students.
In our district, approving apps for student viewing in the STUDENT domain can be done in two different ways.
1. Submit Video and Channel URLs for Approval
Teachers can submit links from YouTube video and entire YouTube channels
in this form
to have them approved for student viewing in the STUDENT domain. It is the responsibility of the staff member submitting the link to be sure this content would be appropriate for our students K-12 prior to submitting the link.
(If you are using a playlist, you will need to be sure all videos in a playlist are approved. Submitting a playlist URL does not guarantee that all videos on that playlist are approved. If you use playlists, you may want to consider requesting a student domain account, outlined below.)
2. Request a Student Domain Account to Approve Videos
If you use a lot of YouTube videos, you may want to request another Google account so you can approve videos for student viewing in the STUDENT domain (this account will end with @stu.waukesha.k12.wi.us).
This is actually another account that you will need to log into, visit the YouTube video from, and then approve. This is another step and it cannot be done with your assigned Google account ending in @waukesha.k12.wi.us.

To request a Google account in the STUDENT domain for approval of YouTube videos, contact the SDW Help Desk at x1073.


Viewing Approved YouTube Videos on Student iPads
Once the video has been approved, teachers sometimes experience issues with students viewing those videos. There can be a variety of reasons why this might be happening, but following a couple of steps can help troubleshoot frustrating situations.


Best Viewed in Browser
There are many apps and ways of viewing YouTube videos. However, the most consistent experience is to encourage students to view the videos in a web browser on their iPad -- either Safari or Chrome. Both work and both will offer a similar experience.


Sign Into YouTube
Once in the browser, students will need to sign into the YouTube to view videos that were restricted but have been approved.
If students are not signed in, this is likely what will display on the screen, whether in Chrome or Safari. This is the YouTube's restricted video filters at work. YouTube will not allow a restricted video to play until they know the viewer is a student and the video has been approved for student viewing.
Clicking the grey "person" icon on the screen will lead students to the screen at right. Then click on "Sign In" and have the student enter their district email address and password to sign in.
Once you have signed in, an approved video should play for students on the iPad. While this may seem to be a cumbersome process, it does allow us to protect students from content that may not be appropriate.


Clear iPad Browser Cache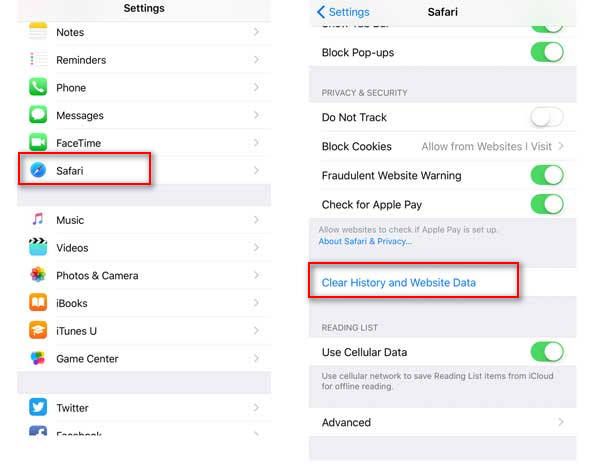 If you have done all of this, and a student is still not able to view a YouTube video, a tip from
Margaret Ottenad
, Library Media Specialist at Butler, may be the solution you need.
Clear the iPad browser's cache on the student device.
This worked for several sections of students who were having spotty results with approved videos.